FINDING KUKAN Documentary Fundraising Party at INDIGO Restaurant
Indigo Restaurant
1121 Nuuanu Avenue Honolulu, HI 96817
This event has already passed by. Sorry.
Event Description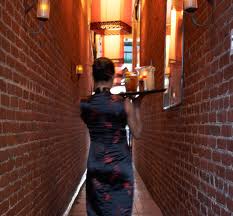 INIDIGO Restaurant Presents "A Night in Old Shanghai"
A Benefit Cocktail Party for the Documentary film FINDING KUKAN
Sunday, October 28 from 5:30 - 8:30pm
To honor the re-discovery of the 1941 Oscar-Winning film KUKAN and its Hawaii Chinese producer Li Ling-Ai we are having "A Night in Old Shanghai" cocktail party benefit. Indigo Restaurant is the perfect place to imagine being in 1930's Shanghai and Halloween is right around the corner. What better excuse to dress up in your best outfit that evokes the era? Kukan Kocktails and Old China hors d'oeuvres will be served.
| Experience the glamour and intrigue of 1930s China.
| Learn about Robin Lung's documentary-in-progress FINDING KUKAN.
| View clips from the film.
| Meet the director and some of the crew.
| Become a part of movie history by helping to save the story of KUKAN and Li Ling-Ai.
Proceeds from our Benefit KUKAN Cocktail Party will go towards completing the first stage of production on FINDING KUKAN, the documentary by Hawaii Chinese filmmaker Robin Lung that chronicles her discovery of the lost Oscar-winning film KUKAN and the woman behind the film -- Li Ling-Ai.
The night's fesitivities will include:
| Silent Auction
| Great prizes for the best costumes that evoke the era of the 30's and 40's.
| Special rewards for any guest who makes a Kickstarter pledge or additional donation at the party.
Tickets are limited. Purchase yours NOW!
For more information about the documentary FINDING KUKAN click here.
Sunday, October 28th, 2012
5:30 pm
–
8:30 pm